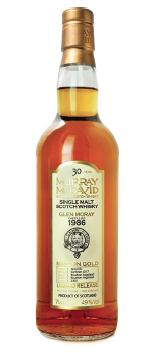 Single Malt
This gracefully mature and distinctive Speyside malt 
honours its time in oak – three decades in a single cask. 
The Glen Moray Distillery nestles on the bank of the 
Lossie River in Elgin, the capital of Speyside. 
Finish: mellow sweet oak 
Nose: honey and liquorice, black cherries, plums 
Palate: creamy vanilla, toasted oats, honey, clove 
The American oak, ex-bourbon barrel, that nurtured this spirit 
created a balanced and complex whisky. It was a true revelation 
for our Whisky Creations Team. We couldn't wait to bottle it at 
natural cask strength when it reached 30 years old. 
Single cask bottling, one of 245
Zoek een verdeelpunt